Membership Login
Member Total: 328
Login in to view members who are currently online.
---
Congratulations to our Top Finishers in 2014 B.A.A. Boston Marathon!
Male
Eric Wallor
Rich Heffron
Scott Mangum
Brandon Gittelman
Steve Breese
Rob Chenoweth
Ricardo Martinez
Matthew Jeromin
Craig Gunby
Ryan Tripicchio
Female
Elena Shemyakina
Helen Nuttall
Lana Macnider-Lazaridis
Denise Hefferin
Christina Trapani
Brooke Williams
Sarah Scanlin
Sherri Breese
Grace Wasielewski
Christine Bell
Age-Graded
John Sullivan
Eugene Schmidt
Paul Harris
Kielo Sauvala
Rita Thiel
Richie Siok Jr
Ray Gobis
Ryan Berba
Jason Moderi
Mick Brown
Log in or become a member to see a lot more details!
Official registration is now open for the
2014 Dick Pond
Fast Track Racing Team!
March 2014 Fast Track Video
What We're About
The Dick Pond Fast Track Racing Team is a premier running club in the northwest, west, and far west suburbs of Chicago for runners of all abilities and experience. The team has grown to over 200 members strong. We train and race together with similar goals and interests. Through camaraderie, friendship, and the pursuit of excellence, the team participates in CARA circuit races and have been the 2009, 2010, 2011, 2012, and 2013 CARA team CHAMPIONS! For the 2014 season we have expanded the race circuit to over 30 local races in Chicago and the suburbs. Members of the team are outfitted in a team singlet and have the opportunity to score points at key team races towards end-of-the-year prizes. All members are asked to be ambassadors of the brand Saucony, and of our family run specialty business, Dick Pond Athletics. In addition, members are asked to race in as many races as they are able, representing the team in a positive manner. The strength of this team is the Power of the Group philosophy. Our runners train and compete in road races and marathons, as well as serve as pace leaders for many races, as a team.
Learn more about the Dick Pond Athletics Fast Track Racing team and find out how to become a member on the Membership Info and Sign Up pages.
---
Training Runs

Our training runs are open to everyone, you do not need to be on the Fast Track team to participate. All paces are welcome as well. Additional information and special announcements for each workout can be found on the

Scheduled Runs

pages.

= Performance booster!

Speedwork

Dick Pond Store Fun Runs

Weekend Group Runs
---
Special Events
Park Ridge Launch Party on Monday, May 5th

Pace Post

I will be there!
Mariposa Brant
Steve Breese
Laura Julien
Barb McGovern
Jenny Randolph
Paul Rudden
Veronika Tylova
Grace Wasielewski

Join the team that has been named CARA's best running team for 5 years in a row- and ITS FREE. The kickoff party for the Park Ridge/Chicago chapter of the team is Monday, May 5th at 6:30pm. Come and meet members of the team for a 5 mile fun run and get to know what it is like to be on the best team in Chicago!
---
Relay for Life on Friday, June 20th

Pace Post

Plan to register
John Brazda
Michelle Gallagher
Ken Hannah
Pamela Kowalczyk
Mark Przybyla
Rick Sandusky
Jennifer Tribble
Grace Wasielewski

Registered
Christine Bell
Diane Cain
Jonathan Cain
Lisa Czepiel
Christine Gates
Donna Healy
Jennifer Hill
Leslie Kelpsch
Serj Martinez
Barb McGovern
Dave Schaefers
Kathryn Schaefers
Ann Schaefers-Coles
Brooke Williams

We can put our legs, heart, camaraderie and sweat on the move to save lives from cancer. One team, one dollar at a time. Our team will do our part to make sure that cancer never steals another year of anyone's life.

Our Reason to Relay

Because cancer never sleeps, for one night... neither will we! By participating, we will raise money and awareness to help American Cancer Society create a world with less cancer and more birthdays. It's hard to find a teammate that hasn't been affected by this disease.... a family member, a friend, a co-worker.

At the American Cancer Society Relay for Life event on June 20th @ Glenbard North High School, our team will camp out overnight, running lap after lap, one runner at a time passing the baton. Each lap is the perimeter of the track (1/4 mile). 400 laps = 100 miles. That's right 100 MILES! Impossible?? I believe the energy of the night and in the company of cancer survivors, we can.

Please join in the night of June 20th. The Relay for Life will begin Friday June 20th @ 6pm with a Survivor Lap; invite those near and dear to you that have overcome to take part in that Survivor Lap. At 7pm, we begin an 11 hour journey towards 100 miles.

To participate, go to Relay for Life's Relay For Life of Carol Stream page. Click SIGN UP --> JOIN A TEAM and get yourself signed up for our fundraising team Dick Pond Fast Track Racing Team. The impact we can make together is much greater than what any of us could do alone!

Location:

Glenbard North High School

Map & Directions:

Google Maps

Time:

6:00 PM

Current Conditions in Carol Stream:

45.3°

Forecast:

(not yet available)

The Relay for Life is on Friday the 20th of June 2014 at 6:00 PM. There are 57 days until then!
---
Got any photos from our Team races, workouts or parties? If you took some great shots, be sure to share with fellow members via the Fast Track DropBox account! It's fast and easy... simply drag & drop into the Fast Track DropBox page. Best of all, your pictures or video could be featured on our monthly video slideshow!

DROPBOX LINK

Instructions to submit your photos to the Team's DropBox:

Contact Jessica Rifis, John Brazda, or Steve Breese to request access to the shared folder
Sort out your favorite photos from recent Fast Track events
Login to your personal DropBox account (create one if needed)
Drag & drop your photos to the Fast Track shared folder
---
Pay Your Singlet Deposit Online!
---
Photo Gallery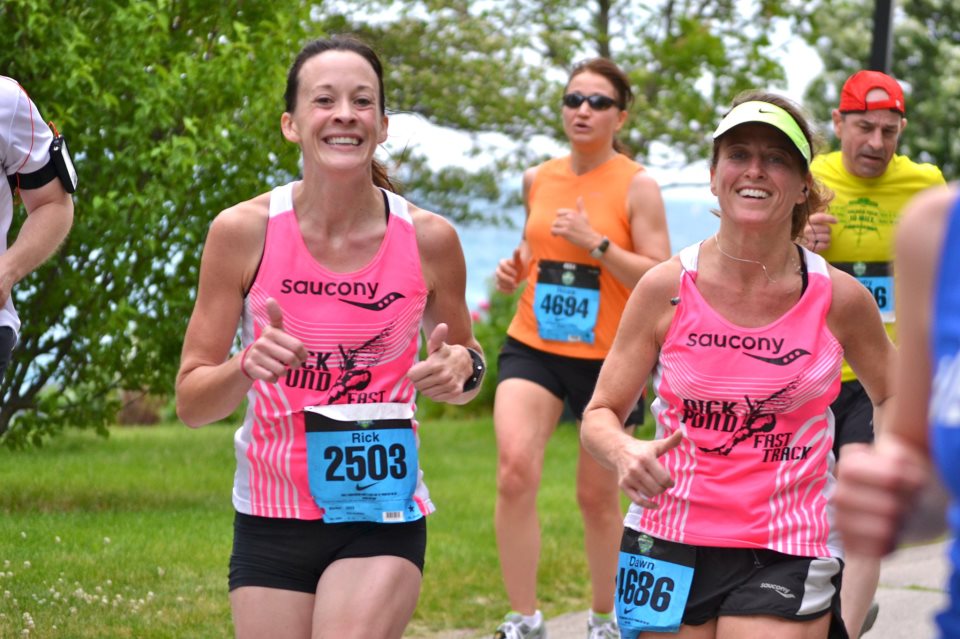 ---
Fast Track's Extracts
2014 CARA Team Race Results RTGFL.xls
2014 Individual Circuit Race Results LF10.xls
---
Twitter Feed
Join the Fast Track Racing Team Twitter feed! This feed will be used for short announcements regarding workouts, races, and get-togethers. All information posted on this Twitter will be available on the team website, but will now be in convenient Twitter form. If you wish to receive text messages from this Twitter feed, follow the instructions below.
How to get text messages from the Fast Track Twitter:
Go to http://twitter.com and sign up for an account
Using your phone, text message the word "START" to 40404
Follow the instructions that are text messaged back to you (first send your Twitter username, then your password, then the word "OK")
Head to http://twitter.com/FTRacingTeam and click the "Follow" button
When you see the green check mark and "Following," click the little phone button immediately to the right
You will now receive text message announcements from Fast Track!
NOTE: By default, you will NOT receive text messages from everyone you follow on Twitter. If you do NOT want to receive text messages, skip step 5 above when following a Twitter feed.