Applications are now being accepted for the
2013 Dick Pond
Fast Track Racing Team!
The Dick Pond Fast Track Racing Team is a premier running club in the northwest suburbs of Chicago for runners of all abilities and experience. The team has grown to over 200 members strong. We train and race together with similar goals and interests. Through camaraderie, friendship, and the pursuit of excellence, the team participates in CARA circuit races and have been the 2009, 2010, 2011, and 2012 CARA team CHAMPIONS! For the 2013 season we have expanded the race circuit to over 30 local races in Chicago and the suburbs. Members of the team are outfitted in a team singlet and have the opportunity to win prizes at every team race. All members are asked to be ambassadors of the brand Saucony, and of our family run specialty business, Dick Pond Athletics. In addition, members are asked to race in as many races as they are able, representing the team in a positive manner. The strength of this team is the "Power of the Group" philosophy. Our runners train and compete in road races and marathons, as well as serve as pace leaders for many races, as a team.
Learn more about the Dick Pond Athletics Fast Track Racing team and find out how to become a member on the Join Us page.
---
Sunday Team Run on Sunday, May 19th
Pace Post
Be the first to post a pace!
Come run with the team at our now regularly scheduled Busse Woods Sunday Run. All paces are welcome and you may choose to do one (7.7 miles) or two loops (15.4 miles).

There are 4 starting time choices: Select your starting time, mileage, and average pace.
Location:

Busse Woods Elk Pasture

Map & Directions:

Google Maps

Time:

Turn into the first entrance east of Rt. 53 off of Higgins and then go left to the parking area and park in the dead end circle..



The Sunday Team Run is on Sunday the 19th of May 2013 at 8:00 AM. There are 18 hours, and 54 minutes until then!
Sunday Team Runs are held on every Sunday throughout Spring, Summer and Fall.
---
Dick Pond Fun Run on Monday, May 20th
Pace Post
| | |
| --- | --- |
| 5.0 mile Route | Avg Pace |
| Paul Harris | 7:00 |
| Michelle Gallagher | 9:00 |
| 7½ mile Route | Avg Pace |
| Paul Rogalski | 7:30 |
| Daniel Pintar | 8:00 |
| 9 mile | Avg Pace |
| Jonathan Cain | 7:00 |
| Helen Nuttall | 7:00 |
| Rich Siok Jr | 7:00 |
Join the Dick Pond Fast Track team at our sponsor's popular group run.
---
Relay for Life on Friday, June 7th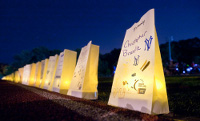 Pace Post
Registered
Jonathan Cain
Lisa Czepiel
Dan Dworzynski
Jennifer Hill
Leslie Kelpsch
Ricardo Martinez
Barb McGovern
Mark Przybyla
Paul Rogalski
Jacquelyn Sylte
Grace Wasielewski
We can put our legs, heart, camaraderie and sweat on the move to save lives from cancer. One team, one dollar at a time. Our team will do our part to make sure that cancer never steals another year of anyone's life.
Our Reason to Relay
Because cancer never sleeps, for one night... neither will we! By participating, we will raise money and awareness to help American Cancer Society create a world with less cancer and more birthdays. It's hard to find a teammate that hasn't been affected by this disease.... a family member, a friend, a co-worker.
At the American Cancer Society Relay for Life event on June 7th @ Lake Park High School, East Campus, our team will camp out overnight, running lap after lap, one runner at a time passing the baton. Each lap around the track is a 1/4 mile. 400 laps = 100 miles. That's right 100 MILES! Impossible?? I believe the energy of the night and in the company of cancer survivors, we can.
Please join in the night of June 7th. The Relay for Life will begin Friday June 7th @ 6pm with a Survivor Lap; invite those near and dear to you that have overcome to take part in that Survivor Lap. At 7pm, we begin an 11 hour journey towards 100 miles.
To participate, go to Relay for Life's Sign Up page. Click "JOIN AN EXISTING TEAM", search for Dick Pond Fast Track and get yourself signed up on our fundraising team. The impact we can make together is much greater than what any of us could do alone!
Map & Directions:

Google Maps

Time:

6:00 PM
The Relay for Life is on Friday the 7th of June 2013 at 6:00 PM. There are 20 days until then!
---
Wednesday Night Track Workouts
Welcome to the DPFTRT Wednesday Night Track Workouts. In conjunction with our weekend long runs, these workouts aim to turn the casual runner into the competitive racer, and the competitive racer into a winner.

Participants tend to run long repetitions, fast but not too fast, with a tightly-controlled rest or interval period. The key to success in these workouts over the long term is to run them at a controlled pace, and not to race against yourself or other runners. Consistency, not spikes and burn-outs, is the key to success.

Track Workout Pace Groups

Group Leaders
5K Mile Pace
Michelle Gallagher, Leslie Kelpsch & Jennifer Hill
> 7:30
Grace Wasielewski & Sara Shulda
6:30 - 7:30
Mark Przybyla & Liza Czepiel
5:30 - 6:30
Dave Schaefers & Jon Cain
< 5:30
From mid-March to early-November, we meet at the Harper College outdoor track for interval training. During winter, we meet at Dick Pond Athletics Schaumburg store for Fartlek and hill workouts. Whether you are training for your first 5K or your 40th marathon, all runners are welcome to come train with us.
Please note that DPFTRT does not always have first dibs on the track and from time to time it is closed with little or no notice.
---
---
Fast Track's Extracts
2012 Individual Circuit Race Results Final.xls
2013 Individual Circuit Race Results OakPark.xls
2012 CARA Team Race Results ParkRidge.xls
2013 CARA Team Race Results LF10.xls
---
Twitter Feed
Introducing the Fast Track Racing Team Twitter feed! This feed will be used for short announcements regarding workouts, races, and get-togethers. All information posted on this Twitter will be available on the team website, but will now be in convenient Twitter form. If you wish to receive text messages from this Twitter feed, follow the instructions below.
How to get text messages from the Fast Track Twitter:
Go to http://twitter.com and sign up for an account
Using your phone, text message the word "START" to 40404
Follow the instructions that are text messaged back to you (first send your Twitter username, then your password, then the word "OK")
Head to http://twitter.com/FTRacingTeam and click the "Follow" button
When you see the green check mark and "Following," click the little phone button immediately to the right
You will now receive text message announcements from Fast Track!
NOTE: By default, you will NOT receive text messages from everyone you follow on Twitter. If you do NOT want to receive text messages, skip step 5 above when following a Twitter feed.