Membership Login
Member Total: 428
Login in to view members who are currently online.
---
Team Sponsors
Fast Track gratefully acknowledges our sponsors:
Dick Pond Athletics • Saucony
---
---
---
New Members are welcome to register for the
2014 Dick Pond
Fast Track Racing Team!
Video Presented at End-of-the-Year Banquet
What We're About
The Dick Pond Fast Track Racing Team is a premier running club in the northwest, west, and far west suburbs of Chicago for runners of all abilities and experience. The team has grown to over 200 members strong. We train and race together with similar goals and interests. Through camaraderie, friendship, and the pursuit of excellence, the team participates in CARA circuit races and have been the 2009, 2010, 2011, 2012, 2013, and 2014 CARA team CHAMPIONS! For the 2014 season we have expanded the race circuit to over 30 local races in Chicago and the suburbs. Members of the team are outfitted in a team singlet and have the opportunity to score points at key team races towards end-of-the-year prizes. All members are asked to be ambassadors of the brand Saucony, and of our family run specialty business, Dick Pond Athletics. In addition, members are asked to race in as many races as they are able, representing the team in a positive manner. The strength of this team is the Power of the Group philosophy. Our runners train and compete in road races and marathons, as well as serve as pace leaders for many races, as a team.
Learn more about the Dick Pond Athletics Fast Track Racing team and find out how to become a member on the Membership Info and Sign Up pages.
---
Special Events
Be a Route Hero on Sunday, November 30th

Login or become a member to see who is attending this event!

Want to help us pick some topnotch running routes for the new Dick Pond running store? Then come on out and be a Route Hero! We will caper about north Hoffman in search of the most fun and interesting running routes.

Location:

Dick Pond - Hoffman Estates

Map & Directions:

Bing Maps

Time:

8:00 AM

Current Conditions in Hoffman Estates:

33.1°

Saturday Forecast:

Partly cloudy skies in the morning will give way to cloudy skies during the afternoon. High 44°. Winds SSW at 10 to 20 mph.

We will organize into various pace groups and run about 6-8 miles. Superhero costumes are optional.

The Be a Route Hero is on Sunday the 30th of November 2014 at 8:00 AM. There are 1 day & 5 hours until then!
---
Christmas Eve Run on Wednesday, December 24th

Login or become a member to see who is attending this training run!

Christmas Eve Day run at 7 a.m. sharp in Long Grove. This group run brings all area running clubs together. There's usually 50+ runners that show up. It's FREE of charge. Get there early to get a parking spot.

Location:

The Village Tavern in Long Grove

Map/Directions:

Google Maps

Route Map:

LogYourRun Map

Route Map:

10.2 mile Route Map


Time:

7:00 AM

Current Conditions in Long Grove:

32.7°

Forecast:

(not yet available)

If this is your first or second time doing this group run, please print out the following directions so you don't get lost.



Go northwest on Old McHenry Rd
Turn left (west) onto Cuba Rd
Turn left (south) onto Quentin Rd
Turn left (east) onto Boschome Dr
Hang left (north) on N. Bochome Circle (do not turn right on S Bochome Circle)
Turn right (east) onto N. Boschome Circle
Turn right (south) onto Grove Dr.
Turn right (west) onto Linden Ln
Turn left (south) onto Buffalo Run
Turn left (east) onto Long Grove Rd
Turn left (north) onto Middleton Dr
Turn left (northwest) onto Andover Rd
Turn right (north) onto Hickory Hills Rd
Turn right (east) onto Cuba Rd
Turn right (southeast) onto Old McHenry Rd
Finish!



Bold

= long roads that you say on until they end

The Christmas Eve Run is on Wednesday the 24th of December 2014 at 7:00 AM. There are 25 days until then!
Christmas Eve Runs are held on every Monday on December 24th.
---
2014 Year End Celebration on Friday, January 2nd

Login or become a member to see who is attending this event!

Prepare yourself for the Year End Team Gathering. Come celebrate this year's accomplishments and get excited for 2015!

When:   Friday, January 2nd, 6:30PM
Where:  The Seville
             700 S Barrington Rd, Streamwood
Cost:    $25 per person

There will be Hors d'oeuvres, Dinner, Open Bar, and Deejay.

We'll be handing out this year's team awards.

Dress code is Nice, this is a banquet hall!



Location:

The Seville, Streamwood

Map & Directions:

Google Maps

Time:

6:30 PM to 12:30 PM

Current Conditions in Streamwood:

31.3°

Forecast:

(not yet available)

We would like a firm count please RSVP and pay by December 23rd. You may pay John Brazda, or Grace W., or Brooke Williams with cash or check payable to DPFT or The Seville.

You can also pay online via PayPal.


The 2014 Year End Celebration is on Friday the 2nd of January 2015 at 6:30 PM. There are 34 days until then!
---
Got any photos from our Team races, workouts or parties? If you took some great shots, be sure to share with fellow members via the Fast Track DropBox account! It's fast and easy... simply drag & drop into the Fast Track DropBox page. Best of all, your pictures or video could be featured on our monthly video slideshow!

DROPBOX LINK

Instructions to submit your photos to the Team's DropBox:

Contact Jessica Rifis, John Brazda, or Steve Breese to request access to the shared folder
Sort out your favorite photos from recent Fast Track events
Login to your personal DropBox account (create one if needed)
Drag & drop your photos to the Fast Track shared folder
---
Pay Your Singlet Deposit Online!
---
Photo Gallery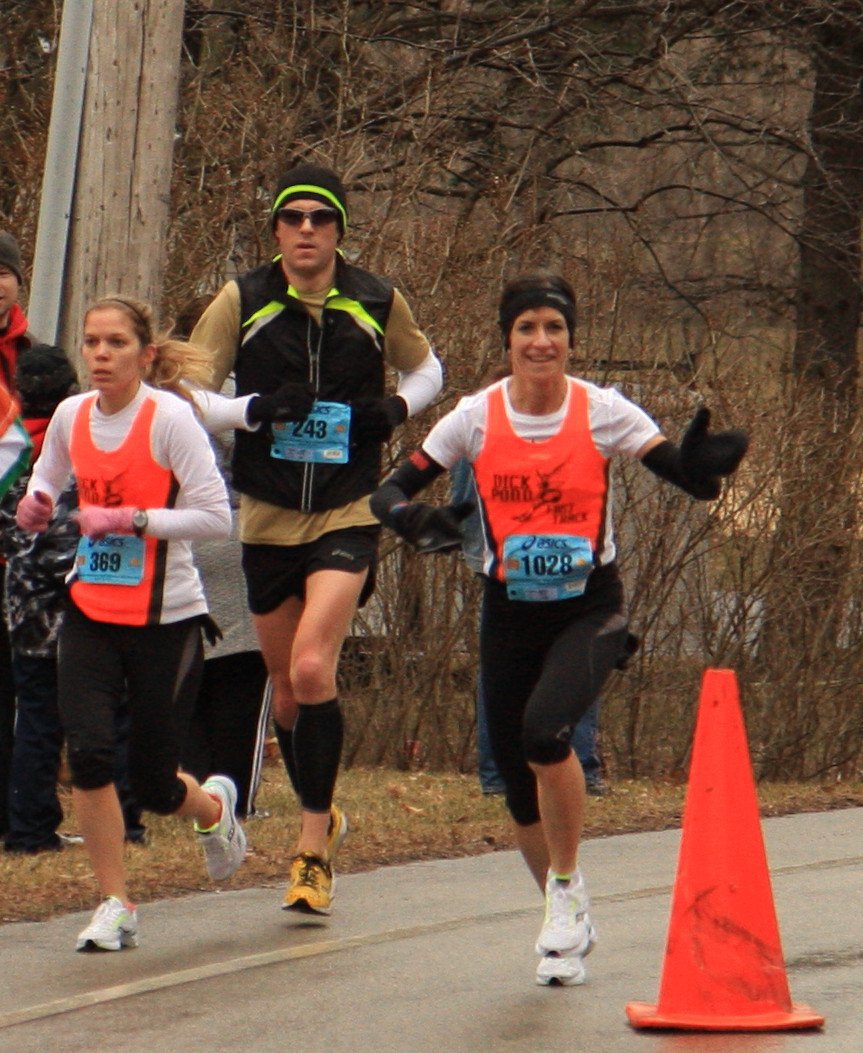 ---
Fast Track's Extracts
2014 DPFTRT Track Workouts.xls
2014 CARA Team Race Results RedEye.xls
2014 Individual Circuit Race Results RedEye8k.xls
---
Twitter Feed
Join the Fast Track Racing Team Twitter feed! This feed will be used for short announcements regarding workouts, races, and get-togethers. All information posted on this Twitter will be available on the team website, but will now be in convenient Twitter form. If you wish to receive text messages from this Twitter feed, follow the instructions below.
How to get text messages from the Fast Track Twitter:
Go to http://twitter.com and sign up for an account
Using your phone, text message the word "START" to 40404
Follow the instructions that are text messaged back to you (first send your Twitter username, then your password, then the word "OK")
Head to http://twitter.com/FTRacingTeam and click the "Follow" button
When you see the green check mark and "Following," click the little phone button immediately to the right
You will now receive text message announcements from Fast Track!
NOTE: By default, you will NOT receive text messages from everyone you follow on Twitter. If you do NOT want to receive text messages, skip step 5 above when following a Twitter feed.